This article should be regularly looked at for new changes.

Please regularly update the status of the All-Time Top White Collectors article with date of change.

(Limit one per day)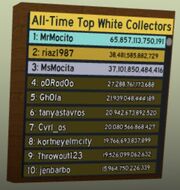 The
All-Time Top White Collectors
is one of the 15
leaderboards
in the game. This leaderboard shows how much white
pollen
players have collected over time. It shows 10 leaderboard positions at a time. The player can scroll down the leaderboard to see more players, all the way to the 100th place. Only legitimate players appear on the leaderboards for lengths of time (hackers/exploiters will be removed).
If the player steps on the white pad in front of it, the message "You've collected "x" White Pollen" will appear. "x" being the amount of white pollen you have collected.
Leaderboard Table
Note: This table was last updated on 8/2/2020 at 6:26 P.M PST.
| Top 3 White Collectors | Total White Pollen collected |
| --- | --- |
| MrMocito | 65,857,113,750,191 |
| riaz1987 | 38,481,585,882,729 |
| MsMocita | 37,101,850,484,416 |
Location
It is located on the left wall of the Petal Shop, near the entrance.
Community content is available under
CC-BY-SA
unless otherwise noted.