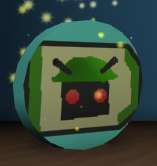 An Ant Pass is a consumable inventory item that is required in order to participate in the Ant Challenge. The player can only have a maximum of 10 ant passes in their inventory at a time. (Unless the player had more than 10 passes before the 4/5/2019 update or recieved them from quests.) 
An ant pass can be used by stepping on the pad in front of the Ant Challenge and pressing E on the player's keyboard or clicking on the notification. 
Methods of Obtaining
The methods below are no longer possible.
Trivia
If the player finds an ant pass token, it will say "You found a ant pass" instead of "You found an ant pass."
The ant pass and gumdrops are the only items that can be used to teleport players somewhere else.
It is possible to have more than 10 ant passes in the player's inventory if players had more than 10 ant passes on hand before the 4/5/2019 update was released (which before there was no limit), or if the player were to receive an ant pass as a reward for completing a quest, putting them over the limit.
Community content is available under
CC-BY-SA
unless otherwise noted.