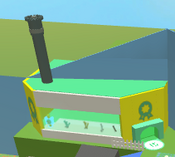 The Badge Bearer's Guild is a shop located near the Pine Tree Forest. The player will need at least 15 Badges to be granted permission to enter the shop.
The shop sells a set of tools called sprinklers. There are currently 5 sprinklers that can be bought in the shop. The player can also find the Blender here, where they can craft certain items from other materials. There is a star jelly token on top of the Blender that requires an accessory that boosts jump-boost or Bear Morph activated to reach it. The Mega Memory Match can also be found inside of this building.
On the opposite side of where the sprinklers are is a gate that requires 1 Ace Badge to pass through. Behind it, the player will discover another shop. This shop sells the Honeycomb Belt, Crimson Guard, Cobalt Guard, and Honey Mask, which appear to be hanging inside of a large honeycomb. In front of the honeycomb, there is another star jelly token.
Outside, it is decorated with the Badge icon in the menu on top of the entrance, along with a large Basic Sprinkler on the roof. It is not solid and can be walked through.
Sprinkler Types and Costs
Picture
Name
Stats
Cost
Badge Types Needed
Basic Sprinkler

Count: 1
Radius: 7
Power: 4
Rate: 6
Setup: 8

1,111,111 honey
10 Cadet Badges
Silver Soakers

Count: 2
Radius: 7
Power: 4
Rate: 5.5
Setup: 7

22,222,222 honey
10 Hotshot Badges
Golden Gushers

Count: 3
Radius: 8
Power: 4
Rate: 5
Setup: 6

333,333,333 honey
10 Ace Badges
Diamond Drenchers

Count: 4
Radius: 8
Power: 5
Rate: 5
Setup: 5

4,444,444,444 honey
10 Master Badges
Supreme Saturator

Count: 1
Radius: 15
Power: 10
Rate: 1
Setup: 4

55,555,555,555 honey
10 Grandmaster Badges
Ace Shop (Badge Bearer's Guild Interior Store Items)
Item
Cost
Description
Cobalt Guard
200,000,000 honey, 100 blue extracts, 100 stingers, 50 enzymes, 25 glitter
A guard bestowed with the heroic power of Cobalt Bee - Defender of the Blue Bees.




Honeycomb Belt
75,000,000 honey, 50 enzymes, 50 glue, 25 oil
A luxurious faux honeycombs you can wear as a belt to greatly enhance your pollen capacity.




Crimson Guard
200,000,000 honey, 100 red extracts, 100 stingers, 50 oil, 25 glitter
A guard bestowed with the heroic power of Crimson Bee - Defender of the Red Bees.




Honey Mask
100,000,000 honey, 9999 treats, 50 oil, 25 enzymes, 5 gold eggs
"This handsome mask is guaranteed to bring satisfaction into your life."



Gallery
Music
Trivia
This is one of the shops that don't have 'Shop' in its name. The other shops that don't have 'Shop' in its name are the Ticket Tent, Red HQ, Blue HQ, Gummy Bear's Lair, and the Coconut Cave.
This and the Gummy Bear's Lair are the only places that require badges to enter them.
All the sprinklers on display except The Supreme Saturator are solid.
The star jelly on the Blender used to be on the ground in the middle of the shop, but that has changed since the 11/25/2018 update.

Bee swarm simulator- star jelly on top of blender

In the 12/19/2018 update, a present token was added inside the shop. It was located on top of the hive of the Ace Shop, but has since been replaced by the star jelly token.
Behind the Ace Badge section is a narrow corridor with a transparent barrier that prevents the player from progressing further.
Community content is available under
CC-BY-SA
unless otherwise noted.