Raise a Floppa - The Loop
Play Sound

Bee Swarm Simulator is an online multiplayer game made in Roblox by Onett. The purpose of the game is to hatch bees to make a swarm, collect pollen, and make it into honey. The game was created on March 21, 2018, and fully released on March 23, 2018.
Gameplay
The player starts off with the tutorial, an optional 36-page slideshow. After that, they can claim any of the 6 unclaimed hives by pressing 'E' or clicking on the large blue button on the top of the screen when you are near your hive. New players will automatically receive a Basic egg, a Pouch, and a Scooper. The player can use their tool to collect pollen from any fields available. Their bag will store the pollen collected, and their bee(s) can convert the pollen into honey while the player is at their hive. The honey can be used to purchase new tools, accessories, eggs, and various other items to progress further into the game.
The player can also receive quests from NPCs, which mainly focus on collecting pollen and defeating mobs, but can also have other, more advanced objectives, like collecting ability tokens and goo.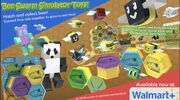 Game Milestones
Milestone
Date Achieved
Reward given
BSS Club hit 10 million members
11/28/2021
Code: 10mMembers
1 million likes
12/13/2020
Code: 1MLikes
1 billion visits
08/13/2020
Expired Code: BillionVisits
BSS Club hit 5 million members
04/16/2020

Expired Code: 5MMembers

BSS Club hit 4 million members
10/19/2019

Expired Code: 4MilMembers

500 million visits
5/3/2019
Code: 500mil
Won Gameplay, Best Group, and Game of the Year
2/23/2019
Expired Code:

BloxyCelebration

Nominated in 4 Bloxy categories
11/17/2018
Expired Code: BloxyBoost
2 million favorites
1/9/2019
Expired Code: 2MFavorites
300 million visits
11/5/2018

Expired Code: 300MVisits

1 million favorites
7/4/2018
Expired Code: 1Mfavorites
BSS Club hit 1 million members
6/5/2018
Expired Code: MillionMembers
100 million visits
6/4/2018
Expired Code: 100mvisits
Game Statistics
Bee Swarm Simulator currently has 1.9B+ visits, 5M+ favorites, and 1.5M+ likes.
Bee Swarm Simulator is the nineteenth game on Roblox to reach 1 billion visits.
Please note that this page does not need much expansion or information as this wiki is dedicated to the game. Please check out the other pages for more info.