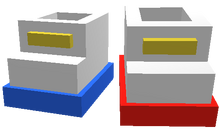 The Beekeeper's Boots is a craftable item which is on sale in the Mountain Top Shop for 15 million Honey, 5 Oil, 3 Red Extracts, and 3 Blue Extracts.
It is the second best pair of boots available within the game the first being the Gummy Boots.
Description
Practical and stylish boots that aid in the beekeeping process.
Stats/Abilities
+15% Pollen From Bees
+8 Movement speed
+20 Jump Power
Trivia
Onett (Quest Giver) wears a pair of Beekeeper's Boots.
The version used by Sun Bear is much bigger than the one the player uses.
They were originally obtained by Sun Bear from 9/10/2018 - 10/8/2018, but went on sale for 33 million honey after he left.

The original 33 million honey price tag was changed to the current price in the 11/25 update.

After the nerf of hats, these replaced the removed bonuses of the Beekeeper's Mask, including the movement speed bonus (which was 6), the jump boost and the bee pollen boost, which before was 25%. And now with both the mask and these boots is 30%, meaning that now you get more bee pollen boost with both Beekeeper's Mask and Beekeeper's Boots.
Like Basic Boots and Hiking Boots, they are available the very moment Sun Bear left.
This is the 2nd best boots in the game, with Gummy Boots being the best.