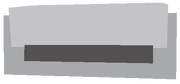 The Belt Bag is a belt accessory that was previously received from Sun Bear after completing his quest "snag a belt bag," before he left. Therefore, it was the first Belt Bag awarded by him. After Sun Bear left, the Belt Bag moved to the Pro Shop, where it is on sale for 440,000 Honey, 50 Pineapples, 50 Sunflower Seeds, and 3 Stingers. Its description is "A convenient pouch designed for easy access."
It grants the following abilities:
+15,000 Container Space
+50% Conversion Rate
+1% Critical Chance
Trivia
Before the 11/25 update, this item didn't require Pineapples, Sunflower Seeds, or Stingers to be purchased.
This item is one of the few items that went from being a quest reward to being purchasable in a shop.