The Blender is a machine located in the Badge Bearer's Guild. The machine's usage is to create consumable items from pre-existing items. However, the player is only able to craft one type of item at a time. There are a total of 12 different items that the machine is able to craft: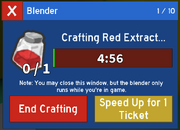 Each item takes 5 minutes to craft and the timer only counts-down when the player is in-game. The player can end the crafting process at any time by clicking on the "End Crafting" button. This will give the player all finished items, and all unfinished items will be turned back into their ingredients and given back to the player. If the button is green, then everything has been blended. If not (red button), then the Blender has not finished blending.
The player can also speed up the blending for a varying amount of tickets. For every 5 minutes left, the Blender requires 1 more ticket to speed up. Moon charms or gumdrops, however, only require a ticket for every 50 minutes on the timer.
There is a star jelly token on top of the lid of the Blender. It can be obtained by repeatedly jumping on the handle with enough Jump Power or by standing on the gate to the Ace Badge section and gliding towards the top.
Community content is available under
CC-BY-SA
unless otherwise noted.