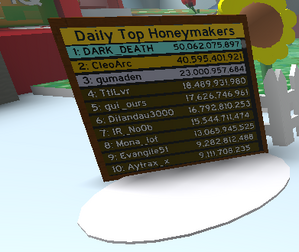 The
Daily Top Honeymakers
is a leaderboard that is located in the
Base Grounds
. It displays the top 100 people who made the most
honey
on that day. It resets every day at 11:00 PM, CST.
When you step into the white pad in front of the leaderboard, it tells you the total amount of honey you made that day and how much time is left until the leaderboard resets.
Location
It is located close to the All-Time Top Honeymakers leaderboard, next to the Basic Egg Shop and Sunflower Field.