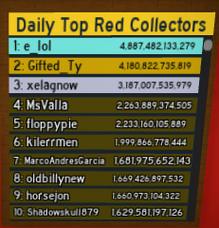 The Daily Top Red Collectors Leaderboard is one of 15 leaderboards in the game. It is located inside of the Red HQ, to the right of the All-Time Top Red Collectors Leaderboard. This leaderboard shows much red pollen players have collected on that day. It shows 10 leaderboard positions at a time. The player can scroll down the leaderboard to see more players, all the way to 100th place. It resets every day at 11:00 PM, CST.
If the player steps on the white pad in front of it, the message "You've collected "x" Red Pollen today (Resets in "y")" will appear.
Community content is available under
CC-BY-SA
unless otherwise noted.