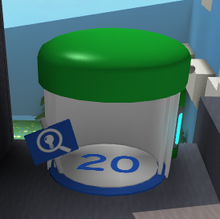 The Field Booster is a booster that provides a field boost to a random field that is either colorless or has no primary color (mixed fields) for 15 minutes. The machine is located beyond the Lion Bee Gate, between the Mountain Top Shop and the Ticket Shop. In order to use it, the player needs to have discovered 20 bee types. The cooldown period is 1 hour and is one of the three field boosters in the game, along with the Blue Field Booster and the Red Field Booster.
The following audio plays when the Field Booster has been activated:
Boosts
Gallery
Trivia
The Field Booster has the same design as the Red and Blue Field Boosters, the only difference being the colors and that it has a sign.
The Coconut Field and the Mountain Top Field cannot be boosted using the Field Booster, despite not being a specifically-colored field.
Prior to the 9/28/2019 update, the player could access the booster without having 25 bees. They only needed to discover 25 bees to unlock the Red Cannon, which fires them to the Mountain Top Field. Since then, the player will now be teleported back to spawn due to it being an attempt to bypass a gate.
Prior to the 9/28/2019 update, the cooldown of the booster used to be 2 hours. 
The Field Booster gives more pollen for fields that appear at the beginning of the game to compensate for their smaller flower sizes.
Community content is available under
CC-BY-SA
unless otherwise noted.