This article should be regularly looked at for new changes.

Please regularly update the status of the Global Top Battlers article with date of change.

(Limit one per day)
The
Global Top Battlers Leaderboard
(or
Battle Points
Leaderboard) shows how many battle points the top 100 players have. It is one
of the nine leaderboards in the game, the others being the
Top Ant Exterminators
, the 
Global Top Honeymakers Leaderboard
, the 
Daily Top Honeymakers
, the 
Top Bucko Bee Helpers
, the 
Top Riley Bee Helpers
, the 
Top Stick Bug Fighters
, and the
Fastest Crab Slayers
.
This leaderboard shows how many battle points players have collected over time. It shows 8 leaderboard positions at one time. The player can scroll down the leaderboard to see more players, to 100th place.
If you step on the white pad in front of it, the message "You have x Battle Points" will appear.
Achievements
On 8/10/2019, MunkNull was the first person to obtain 1,000,000 (1 million) battle points.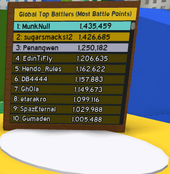 Table of Leaderboard
Note: This table was last updated on 3/22/2020.
| Top 3 Battlers | Total Battle Points Earned |
| --- | --- |
| sugarsmacks12 | 1,436,173 |
| MunkNull | 1,435,624 |
| Penangwen | 1,258,066 |
Location
It is on the yellow platform beside Panda Bear, in front of the Bamboo Field and behind the Blue Flower Field.
Trivia
Community content is available under
CC-BY-SA
unless otherwise noted.