This piece of content goes bye bye.

The following content has been removed from the game. The contents below may be archival, but feel free to edit below.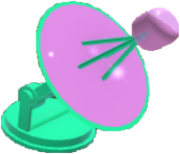 The Gummy Beacon was a Beesmas 2020 machine that was unlocked after completing Gummy Bear's Beesmas quest. It was located on top of the Noob Shop, on the corner closest to the Royal Jelly Dispenser next to the Clover Field, in front of the Star Hall. If the player attempted to activate it without completing the quest it read: "The satellite dish isn't working, but it still emits bad vibes..."
The Gummy Beacon started a Gummy Siege and summoned 3 temporary Gummy Bees of a random level between 8-20 that lasted for 5 minutes. It had a cooldown of 8 hours.
Trivia
This was the second way of making Gummy Bear appear in the mountain, the first being the gummy cannon.
This was also the only way that the Gummy Cannon can appear.
This is one of the 4 Machines that summoned temporary bees, the others being the Honeyday Candles, Onett's Lid Art, and Honey Bee's Honey Wreath.
This was the only way to have more than 1 Gummy Bee in your swarm.
The Gummy Bees given by Gummy Beacon could help player activate the Gummy Morph very quickly by spawning tokens that contribute towards the passive.
Community content is available under
CC-BY-SA
unless otherwise noted.