A
Honeystorm
can be summoned from the pad near the
Brown Bear
by anyone who has discovered four types of
Legendary Bees
. When summoned, the game will announce:
"<playername> has summoned a Honeystorm!"
, a golden fog will descend, and lots of
Honey tokens
and some
Ticket tokens
will begin appearing randomly across every field. The storm lasts for 20 seconds and may not be called by the same player for another four hours. It can also trigger randomly; in that case, the game says:
"A honeystorm has been summoned!"

When a Honeystorm is summoned, there is a sound effect of a deep, robotic voice saying "Honeystorm", and the honey tokens make raindrop-like noises when they appear. It is easier to hear these sounds if you have the music turned off.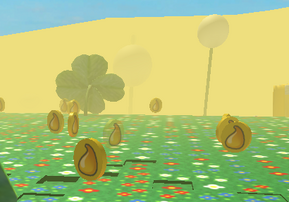 Fields with bigger flowers give larger honey tokens. However, unlike with flower-generated honey tokens, your Luck does not affect the value of the Honeystorm tokens, so their value can seem lower than what you're used to. However it can be effected by the mechanic honey per token. These honey tokens also live shorter than normal honey tokens.
There was a short-lived bug on 5/26/2018 that caused the Honeystorm to be accidentally removed. If you encounter a server without a Honeystorm pad, leave the game and come back.
After the 10/8/2018 update, the Honeystorm summoning pad was moved, and now on its old place there is Wealth Clock. Now it is located between Clover Field and Blue HQ.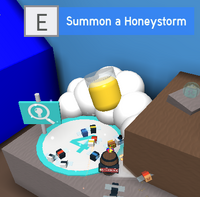 Trivia
The clouds are usually honey-colored, but during the Beesmas event, the clouds are white.
It is very useful for quests that require honey tokens such as Honey Bee (NPC)'s quests.
This and the Special Sprout Summoner are the only machines that require you to discover legendary bee types to use.
Honeystorms also have a relatively high chance of spawning ticket tokens