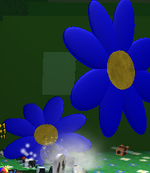 The King Beetle's Lair is the location where the King Beetle spawns. It can be accessed from the Blue Flower Field by climbing a blue flower next to the Clover Field and can be exited by climbing a ladder inside the lair.
It is located right under Clover Field and is between the Blue Flower Field and the Noob Shop.
The King Beetle spawns on the back wall adjacent to the Noob Shop Parkour.
Near the back right corner of the lair, there's some text on the floor: "Song Name". It refers to the song that plays inside the lair and is a hint to a code. (The answer, and thus the code, is Crawlers. It grants 5 tickets.)
Trivia
In early game versions, if players went too close to the side of the lair that is closest to the Noob Shop, they could die due to the leaking lava from the lava parkour in the shop. Luckily, the leaking lava has been put back into the Noob Shop Parkour.

If Vicious Bee is attacking someone in the Clover Field while you're in the lair, you might see the bottoms of some of its spikes and you can attack it.
The bottom of the post for the Honeystorm pad's sign pokes into the top of the lair.
If there's a Sprout in the Clover Field, the bottom of its light column and the remaining pollen number are visible in the lair.
There is a glitch where you can get the King Beetle stuck in the 'Song Name' corner.
While it is snowy, you can see the red roof of the lair on the sides of the flower blocks in the Clover Field.
You can't get in the lair from the exit; it's just a teleport pad that makes you go in front of the part.
If there is a Vicious Bee in the Clover Field, the Vicious Bee might attack the King Beetle.