The King Beetle's Lair is the location where the King Beetle spawns. It can be accessed from the light green door between Blue HQ and the Clover Field. Inside the lair, the exit can be accessed by climbing a ladder leaning on one of the walls in the lair. Both doors are one-way.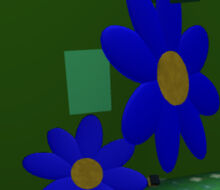 It is located right under Clover Field and is between the Blue Flower Field and the Noob Shop.
The King Beetle spawns on the back wall adjacent to the Noob Shop/Lava Parkour.
Near the back right corner of the lair, there is some text on the floor: "Song Name". It refers to the song that plays inside the lair and is a hint to the code 'Crawlers'.
Music
Trivia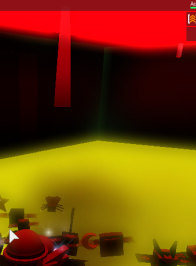 In early game versions, if players went too close to the side of the lair that is closest to the Noob Shop, they could die due to a lava block clipping into the wall from the shop. This was later patched.
If Rogue Vicious Bee is attacking someone in the Clover Field while in the lair, the bottom of some of its spikes can be seen before they push up to the ground.
The bottom of the post for the honeystorm pad's sign pokes into the top of the lair.
If there is a sprout in the Clover Field, the bottom of its light column and the remaining pollen number are visible in the lair.
There is a glitch where the King Beetle can fail to lunge when in the 'Song Name' corner.
During the 2018 Beesmas Event, the red roof of the lair can be seen on the sides of the flower blocks in the Clover Field.

However, you could still see the red roof's glow near the Noob Shop wall even when it was not snowy.
The Spark Staff can collect pollen from the Clover Field inside the lair if the player continuously jumps.
The entrance to the lair is lighter than the color of the surrounding ground and slightly changes in.
If there is a cloud in the Clover Field, the rain will appear to be falling into the lair.
Community content is available under
CC-BY-SA
unless otherwise noted.