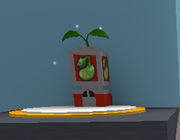 The Magic Bean Shop is a shop located next to the Stump Field. It can be used to purchase magic beans with tickets, in increments of 1 and 10, with each bean being 20 tickets.
It is decorated with a small normal sprout on top, along with the magic bean icon on all of its sides.
Prices
| Magic Beans | Tickets |
| --- | --- |
| 1 | 20 |
| 10 | 200 |
Trivia
In terms of Robux, the Magic Bean Shop is overpriced. In the Robux Shop, a ticket costs 10 robux, while a magic bean costs 30 robux and the player needs 20 tickets for 1 magic bean. That means the player is getting something for 200 robux when they could get for only 30 robux (This is similar to the Royal Jelly Ticket Dispenser).

For comparison, 200 robux can also be used to purchase a bundle of 10 magic beans in the robux shop, effectively meaning the player misses out on 9 magic beans if they buy 20 tickets from the robux shop to spend them on the magic bean shop.
Community content is available under
CC-BY-SA
unless otherwise noted.