Hello

Welcome to my cringey message wall! I still don't why you are stalking me...
Like actually though you should be somewhere else....
Oh wow. You really are a determined stalker.
Ok... Here is my message wall ¥…¥ (it is pretty empty)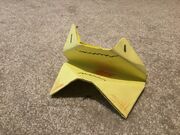 The monster greets you with a smile! It tells you the guidelines. Don't spam or say anything inappropriate!

Give Kudos to this message
You've given this message Kudos!
See who gave Kudos to this message
Community content is available under
CC-BY-SA
unless otherwise noted.