This piece of content goes bye bye.

This content has been either removed or can no longer be earned in the game. The contents below may be archival, but feel free to edit below.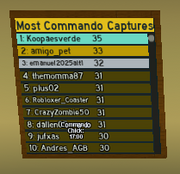 The Most Commando Captures Leaderboard was a leaderboard located in Commando Chick's Hideout. This leaderboard showed how many Commando Chicks players have captured. It displayed 10 leaderboard positions at one time. The player could have scrolled down the leaderboard to see more players, all the way to the 100th place.
Table of Leaderboard
Note: This table was last updated on 4/6/2020 at 4:34 PM EST. It can't be updated anymore because this leaderboard has been removed.
| Top 3 Capturers | Total Captures |
| --- | --- |
| Koopaesverde | 35 |
| amigo_pet | 33 |
| emanuel2025altl | 32 |
Trivia
This and Top Brown Bear Helpers are the only leaderboards where the player cannot see how much of the objective they have obtained.
This, the Fastest Crab Slayers leaderboard, and the Top Brown Bear Helpers are the only leaderboards that hang on a wall.
This leaderboard was removed a day after it was added due to a glitch, where Commando Chicks would instantly respawn. Instead of resetting everyone's progress, the leaderboard was hidden.

This and the Highest Snowbear Level leaderboard are the only leaderboards that were removed from the game. This also was the first leaderboard to be removed from the game.
This is the shortest lived feature in the game.