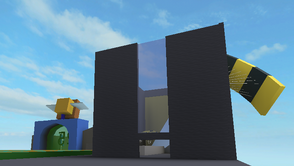 The Mountain Top Shop (also known as the Glider Shop because of the glider on its facade) is located past the Lion Bee Gate. Before the Mountain Top Field's name was known, this shop used to be called the 25 Bee Shop. This shop sells various high-end items.
The shop is currently run by Top Bear, but before the 7/11 update that wasn't the case. Originally, it was not ran by any bear.
There is a Royal Jelly on the roof and a ticket in a corner.
It used to be possible to bypass the Lion Bee Gate and access the shop without 25 bees, using the Red Cannon.
Special
Item
Cost
Description
Beekeeper's Mask
20,000,000 Honey, 5 Enzymes, 3 Glue, 1 Glitter
A veiled hat only worn by real-deal beekeepers.




+15% Pollen From Bees
+25% Instant Conversion
+25% Damage Reduction
+10% Bee Ability Rate
+100% Luck

Mondo Belt Bag
12,400,000 Honey, 150 Pineapples, 150 Sunflower Seeds , and 10 Stingers. Could also be obtained by completing Sun Bear's quests before he left during his first visit.
A convenient pouch designed for easy access.




+50,000 Container Space
+100% Conversion Rate
+2% Critical Chance

Porcelain Dipper
150,000,000 Honey
Collects 2 pollen from 81 surrounding patches in 0.75 seconds.

Collects x1.5 from white flowers. Every 10th scoop summons a pillar of light that collects massive pollen!

Porcelain Port-O-Hive
250,000,000 Honey
The rarest and most precious Port-O-Hive in the world. Can store up to 1,000,000 pollen.
Glider
5,000,000 Honey
Floats much faster than the Parachute, allowing you to fly through the sky!

Press jump while in the air to open.

Hive Slot

3,000,000* Honey

(Price increases every time you buy one)
Increases the capacity of slots your hive has, allowing you to hatch an additional bee!
Golden Rake
20,000,000 Honey
Collects 7 pollen from 4 lines of 4 patches in 0.75 seconds.

Every 5th scoop is supercharged to reach farther and collect more!

Spark Staff
60,000,000 Honey
Collects ALL pollen from the 3 tallest nearby flowers in 0.6 seconds.
Eviction
50,000 Honey
Gives you an item to place on a bee's comb to evict it. This is used if a player cannot afford a Hive Slot and they need to add a bee.
Beekeeper's Boots

15,000,000 Honey, 5 Oils, 3 Blue Extracts, 3 Red Extracts. Could also be obtained by finishing Sun Bear's quests before he left during his second visit.

Practical and stylish boots that aid in the beekeeping process.




+15% Pollen From Bees
+8 Movespeed
+20 Jump Power
+10 Movement Collection
Music