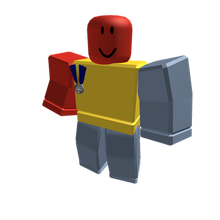 This page is for the developer of the game. For the quest-giving NPC, see Onett.
Onett is the owner and programmer of Bee Swarm Simulator. Bee Swarm Simulator is his first and main game on Roblox. He owns the Bee Swarm Simulator Fan Group, the Onett's Testing Group, and is in charge of codes. Onett's Twitter account can be found by searching @OnettDev.
Onett also runs alternate accounts to handle messages about errors experienced while playing Bee Swarm Simulator. BeeSwarmBugReport handles bug reports and BeeSwarmSupport handles the purchase and saves file reports.
At the age of 30 (born in 1990), Onett lived in Texas, as confirmed on Discord. Later around early April 2019, Onett moved somewhere in the EDT time zone, also confirmed on Discord.
Gallery
Trivia
Onett has a cat in real life because he says that Tabby Bee looks like his cat in his NPC's quest dialogue. The cat he owns is named Sam.
It has been confirmed that Onett does NOT have a YouTube account. Any YouTube accounts that claim to be Onett are impersonators. Onett DOES in fact have a twitch account although. Link
Onett's favorite bees are Basic Bee, Rascal Bee, and Tabby Bee.
Community content is available under
CC-BY-SA
unless otherwise noted.