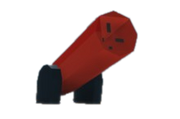 The Red Cannon is a cannon available for use once the player has discovered 25 bee types. It is located to the right of the hives, next to Black Bear, and near the Ticket Tent and the Blue Teleporter exit.
If the player has the Parachute or Glider, they can use it in combination with the Red Cannon to navigate quickly around the map due to its large range. It gives access various places that were once tedious or impossible to access, such as the Star Hall, going outside the map, or to collect most royal jelly tokens, like the one on top of the Mountain Top Shop and the one on top of the hives.
If used without any buffs or gliding tools, the player will usually land in the middle of the Mountain Top Field, though it has been known to undershoot (landing on the ramp up to the Lion Bee Gate, into the Mushroom Field, or very rarely, the fence on the border of the Sunflower Field) or overshoot (putting the player outside the boundaries of the map). If the player has the Scythe equipped, the Red Cannon may only manage to shoot them into the Spider Field due to unknown reasons.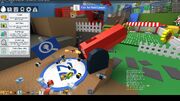 Trivia
The Red Cannon is the only cannon that has a crosshair on it.
It is one of the three cannons in the game, the other two being the Yellow Cannon and Blue Cannon.
This cannon has the biggest range of all the cannons in the game.
In the 9/10/2018 update, people who were lagging now fling out of the cannon. This can result in getting stuck in a wall or being flung out of the map.
It is the transportation method that requires the largest amount of discovered bee types to be used.
On game release, the cannon could be used by discovering 20 bee types. After the 4/27/2018 update, it was changed to 22 bee types. In the 11/25/2018 update, it was changed to 25 bee types and has remained that way since.
It is the only cannon to not launch the player on the Base Grounds, it instead launches the player to the Mountain Top Field, as the cannon is already in the Base Grounds.
Community content is available under
CC-BY-SA
unless otherwise noted.