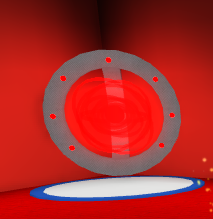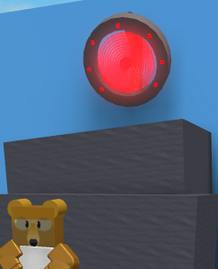 The Red Teleporter is located inside the Red HQ. When activated, it will instantly transport you (but not your bees) to the hill behind Science Bear.
To activate the teleporter, walk onto its pad and press E.
Trivia
Like its counterpart, the Blue Teleporter, the Red Teleporter has an animation where the rings will revolve, but it is buggy: the rings will start, but then they slow down to the point of them stopping.
There is a ticket token near the ceiling of Red HQ which can be reached by jumping up on top of the Red Teleporter, then jumping/parachuting to the token. Note that enhanced jumping ability, such as from Bear Morph and/or boots, is pretty much required.
Oddly enough, the Red Teleporter can teleport you to a spot where you can reach the Blue HQ directly, but the Blue Teleporter can't teleport you to a spot where you can access the Red HQ directly, unless you have Bear Morph or other boosts or tools that will make you jump higher.