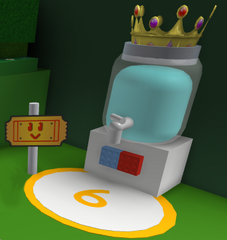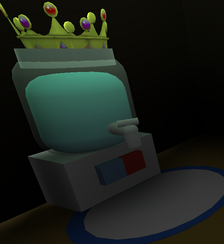 Not to be confused with the Royal Jelly Shop.
There are 2 Royal Jelly Dispensers in the game.
Royal Jelly Ticket Dispenser
The first dispenser is located near the Clover Field and Slingshot. It requires 6 tickets to be exchanged for one royal jelly and 10× Haste.  
The dispenser has a cooldown of 0.5 seconds.
Free Royal Jelly Dispenser
The second dispenser is located in the Star Hall. It requires a least 1 gifted bee type to redeem a royal jelly and Haste+. The number of royal jellies the player receives is based on the number of gifted bee(s) they have in the hive. For example, if the player has 15 gifted bees, but two of them are the same type, they would still get 15 royal jellies.
This dispenser has a cooldown of 22 hours. Currently, players can get a maximum of 50 royal jellies per use with 50 gifted bees.
Trivia
In terms of Robux, the Royal Jelly Ticket Dispenser is overpriced; 1 ticket costs 10 robux, and 1 royal jelly costs 45 robux. Thus, spending 6 tickets for 1 royal jelly means that the player is paying 60 robux for something they could get for 45 robux. This calculation doesn't apply if the player got their tickets from the game rather than by buying them with robux.
In terms of honey, the royal jelly ticket dispenser is also very overpriced due to 1 royal jelly costing 1 million honey at the royal jelly shop, but if you were to purchase 6 tickets from the mountain top ticket shop, it would easily cost more than a million.
All the Royal Jelly dispensers (except the free royal jelly dispenser) are in the base grounds.
The Royal Jelly Ticket Dispenser is one of two dispensers that require tickets to use, the other being the Ant Pass Dispenser.
Community content is available under
CC-BY-SA
unless otherwise noted.