Spider Field

Field Color
White
Bee Prerequisites
5 bees
Field Dimensions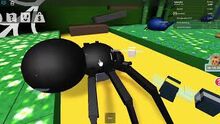 Spider Field is located behind the Basic Bee Gate. All of its flowers are white, mostly of medium size. The field is protected by a Spider (level 3) which respawns every 30 minutes.
The Spider field is a 25x34 field, with 850 flowers in total. 10% of the flowers are small, 80% are medium (aka double), and 10% are large.
This field can sometimes spawn Treat, Honey Tokens, and Enzymes when collecting pollen.
Trivia