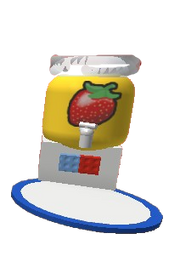 The Strawberry Dispenser is a dispenser located near the Red HQ. It can be accessed by climbing the ladder inside of the Red HQ. When used, it gives the player honey, haste x5, red boost x10, and 1 strawberry for every red bee in the player's hive.
It has a cooldown of 4 hours, and can only be used by members of the Bee Swarm Simulator Club.
Gallery
Community content is available under
CC-BY-SA
unless otherwise noted.