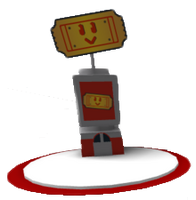 This page is for the shop that sells tickets. For the shop that sells items for tickets, see the Ticket Tent page.
The Ticket Shop is a shop located outside the Mountain Top Shop next to the Field Booster. It sells tickets for honey in increments of 1, 10, 100, and 500 tickets. It has a similar appearance to other shops like the Basic Egg Shop, Royal Jelly Shop and Treat Shop, but has a ticket on top, along with its icon on the sides.
The tickets' price add up quickly so it may be wise to only use it when you are close to your goal (Around 5~10 tickets).
The price of a ticket increases exponentially and the formula for how much it increases is still unknown.
Community content is available under
CC-BY-SA
unless otherwise noted.