This article should be regularly looked at for new changes.

Please regularly update the status of the Top Brown Bear Helpers article with date of change.

(Limit one per day)
The Top Brown Bear Helpers Leaderboard is one of the 15 leaderboards in the game.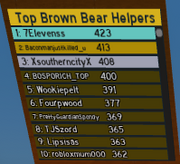 This leaderboard shows the top 100 people who've completed the most quests for Brown Bear. It shows 10 leaderboard positions at one time and is found to the right of Brown Bear. The player can scroll down the leaderboard to see more players, all the way to the 100th place. There is no pad for the player to see their current progress, making it the only leaderboard that is currently in the game to not have one.
Achievements
On 6/7/2020, Lipsisas was the first user to obtain the Brown Cub skin.
Table of Leaderboard
Note: This table was last updated on 6/11/2021 at 8:53 AM EST.
| Top 3 Brown Bear Helpers | Total Quests |
| --- | --- |
| 7Elevenss | 447 |
| Baconmanjustkilled_u | 414 |
| Wookiepelt | 412 |
Trivia
This is currently the only leaderboard that does not show how much of the current objective the player has obtained, as the Most Commando Captures leaderboard was removed from the game. Instead, Brown Bear tells the player how much of the objective they've done every time they complete a quest.
This is the only leaderboard that counts the total amount of quests completed for a bear.
Community content is available under
CC-BY-SA
unless otherwise noted.