This article should be regularly looked at for new changes.

Please regularly update the status of the Top Riley Bee Helpers article with date of change.

(Limit one per day)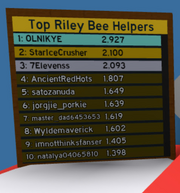 The Global Top Riley Bee Helpers Leaderboard is one of the 15 leaderboards in the game. It is located on the roof of the Red HQ next to Gifted Riley Bee. It displays the top 100 people who've completed the most quests from Gifted Riley Bee. It shows 10 leaderboard positions at one time. If the player stands on the white circle in front of it, they can see how many Gifted Riley Bee quests they've completed.
Leaderboard Table
Note: This table was last updated on 8/26/21 at 6:02 P.M. EST.
| Top 3 Riley Bee Helpers | Total Quests Completed |
| --- | --- |
| OLNIKYE | 2,927 |
| StarIceCrusher | 2,100 |
| 7Elevenss | 2,093 |