This article should be regularly looked at for new changes.

Please regularly update the status of the Top Stick Bug Fighters article with date of change.

(Limit one per day)
The Global Top Stick Bug Fighters Leaderboard is one of the 15 leaderboards in the game. It can display 10 leaderboard positions at a time.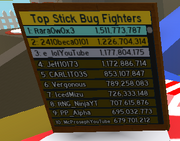 If the player stands on the white circle in front of the leaderboard, they can view their current highscore for the challenge. The leaderboard tracks the top 100 scores from fighting Stick Bug.
One method to get there is to use the Red, Blue, or Yellow Cannons paired with either the Parachute or Glider. Another way to get there is to parachute or glide from a tall place, like near the Lion Bee Gate. Doing the Mushroom Field Obby and jumping and gliding to the tallest mushroom is also a viable solution. 
The Stick Bug Fighters leaderboard reset after glitches with the fight were fixed on 9/27/19.
Table of Leaderboard
Note: This table was last updated on 7/27/21 at 10:26 P.M. EST.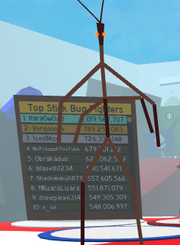 Top 3 Stick Bug Fighters
Highest Score
Rara0w0x3
1,511,773,787
Jeff10173
1,407,774,401
2410beca0101
1,226,704,314
Achievements
As of 09/02/2021, Rara0w0x3 is the first person to reach a score of over 1 billion.