Hey guys, my name is DiamondMiner325 (ign: DiamondMiner_325). And I'm back!
I used to be very popular on the wiki (that was over 9 months ago).
Anyways, here's some more stuff about me.
Sorry about the horrible profile page, its still a work in progress.
My Accomplishments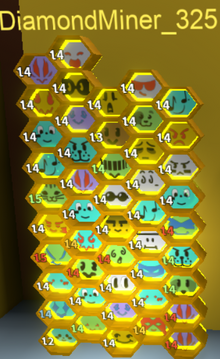 Made 1,470 bil honey total
Made 588 bil in a single day
Got on the daily honey leaderboard three times
Have all 3 end game masks
All field Grandmasters! Except coco and pepper ofc, but those are also Master.
Discovered all types and gifteds except Vector (srsly this game is rigged)
Got 8 bronze shell amulets, 5 silver shell amulets, and 3 gold shell amulets in a row. But then I got supreme on my 24th kill!
My Gear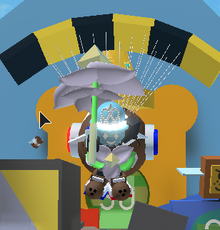 Demon Mask (rip Diamond Mask)
Coconut Canister
Petal Wand
Petal Belt
Crimson Guard
Cobalt Guard
Coconut Clogs
My Badges (1/5/20)
Honey Grandmaster (1.07 t)
Quest Master (1.6k / 5k)
Battle Master (188k / 2 m)
Ability Master (1.8 / 10 m)
Goo Grandmaster (257 m)
Playtime Master (57 days / 100 days)
Sunflower Grandmaster (5 b)
Dandelion Grandmaster (13 b)
Mushroom Grandmaster (9 b)
Blue Flower Grandmaster (17 b)
Clover Grandmaster (11 b)
Spider Grandmaster (6 b)
Strawberry Grandmaster (29 b)
Bamboo Grandmaster (29 b)
Pineapple Grandmaster (7 b)
Pumpkin Grandmaster (10 b)
Cactus Grandmaster (6 b)
Rose Grandmaster (6 b)
Pine Tree Grandmaster (23 b)
Stump Grandmaster (94 b)
Coconut Master (183b / 1t)
Pepper Master (175b / 1t)
Things on my to do list
48th Hive Slot
108 / 285 b
Level 15 Bees
108 / ~ 500 b
Gummy Boots
832 / 999 glue
Um...
How many people actually visit my profile page?
Plz vote on this poll.
Community content is available under
CC-BY-SA
unless otherwise noted.