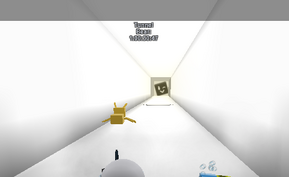 The White Tunnel is a hidden location that can be entered via the Instant Converter near the Pineapple Patch and Stump Field and exited via a platform in the middle of the tunnel. It is home to Tunnel Bear. It does not contain any items, but it does have a picture of a winking Basic Bee face at the end of the tunnel, hinting the code "Wink" (valid). The farther down the tunnel you go, the narrower the tunnel becomes. This makes exploiting Tunnel Bear harder as you can only "turn around" at the beginning of the tunnel, elongating the fight.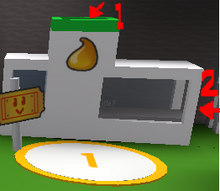 There are two ways to enter: by diving into the top of the instant converter, or by hopping up into the right side of the converter. To use the first method, either hop up on one of the shorter parts of the converter, then jump into the chute at the top, or if you don't have enough jumping power to do that, go up to the Yellow Cannon and jump down from there, or jump on the converter from the ledge beside it.
There is an exit platform about a third of the way down the tunnel that will teleport you on to the top of the Instant Converter that is right next to the Sunflower Field.
Music
Gallery
Trivia
Community content is available under
CC-BY-SA
unless otherwise noted.