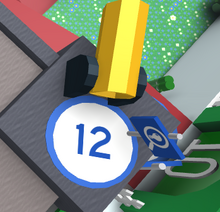 The Yellow Cannon is available to you once you have 12 bee types. It is located on a hill accessible from the Pineapple Patch, next to Science Bear. If you use it without any power-ups or other tools (e.g. parachute), you'll land in the spawn area or near the Dandelion Field near the hives.
Royal Jellies
The Yellow Cannon combined with the Parachute can be used to get the Royal Jelly from the top of the tallest dandelion, the end of the Mushroom Obby, as well as the one in front of the Star Hall. With luck and perseverance, it is also possible to reach the top of the hives with the yellow cannon+parachute, which will enable you to get the Royal Jelly behind the Onett NPC. That last one is much easier with the Glider, though.
Bypass
It is possible, but not easy, to bypass the Honey Bee Gate using the yellow cannon plus the parachute: first, use the cannon+parachute to get to the top of the tallest mushroom, then parachute from there to the corner of the Rose Field. Timing is critical - open the chute too early and you don't go far enough, too late and you don't go high enough. It's also important not to try this on a laggy server.